Z750 TWIN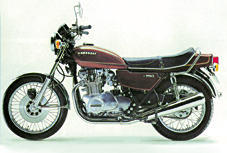 The Z750B was another Kawasaki that missed the mark. Having said that I personally think the Z750 was an excellent bike but the legend of the H2 triple was a hard act to follow. The Z750 was a very good handling bike with loads of low down power but the front and rear disk brakes were poor especially in the wet. The vibration, in spite of the two chain driven engine balancer weights, was excessive and anything over 100 MPH was almost unbearable. We sold most models we had in stock to sidecar owners who loved this low down pulling power.
We only got the B1 and B2 models here in the UK but there was a B3 and B4 model elsewhere.
Kawasaki offered owners the choice of a pair of alloy wheels taken from the Z1000 to help improve sales but it was all in vain. The Z750 struggled to find anyone to love it.
The DOHC 750 motor was considered by many people to be too complicated to be sold as a
British bike alternative and the sports bike riders considered it to boring, so the market for
This bike was very limited. So limited that Kawasaki produced a `LTD` version in the states, the Z750-G model, basically a B model with more chrome and a stepped seat. It was later re-introduced to the UK in 1982 as the Z750-Y model. This was a chopper style bike with alloy wheels. Needless to say it sold like a lead balloon!.
The same bike was sold in the US as the Z750-S model, other wise known as the 750 CSR.
Many restored examples of the Z750 are now being shown and quite a lot of imports are popping up, making this bike more popular now than it ever was in the seventies. Perhaps it was way ahead of its time or perhaps the sale of rose tinted glasses have increased!!!!.
750 TWIN
1976 Z750-B1
1977 Z750-B2
1978 Z750-B3
1979 Z750-B4
1980 KZ750-G1 LTD
Sort By
Previous Page
1
2
3
Next Page
Previous Page
1
2
3
Next Page