Z400/440 TWIN
KAWASAKI FOUR STROKE TWINS 1974 ONWARDS.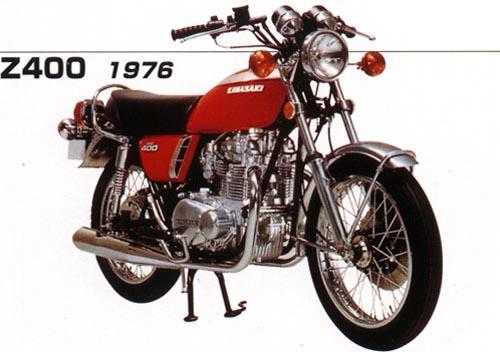 Kawasaki did not always get it right. There were three models that they would probably like to forget. The 400, 440 twins.
After the exciting two stroke triple range of the early seventies, Kawasaki were desperate to show the world that they could build dependable, sociably acceptable motorcycles. Obviously these had to be four stroke models. The 400 class in America was very important especially now that they had a plant over there producing the 1975 model KZ400.
The 400 was introduced in 1975 as the KZ400 becoming the D3 in 1976 and D4 in 1977. It was a SOHC motor with 5 gears and a chain driven balance shaft system to combat the inherent vibration found with a twin. The 400 was a poor seller here in the UK being over shadowed by the Honda CB400-4 and Kawasaki's own KH400. The Z400 was a bit troublesome, many examples suffering from crankshaft and oil leak problems not to mention the awful twin carb set-up. Not until the much later 440 models did things get any better.
1978 saw the introduction of the B model, which boasted a 6-speed gearbox and improved styling. There was also a Z400-G model, which was sold as a custom, basically a B model with alloy wheels and a paint job.
There were many more 400 models in the states including tourer models with built in luggage and a fairing and economy models with two into one exhaust systems and drum brakes. We were still selling 1977 models here in the UK as late as 1980, such was their attraction!!.
MODEL HISTORY:
400 TWIN
1974 KZ400D
1975 KZ400D KZ400S
1976 Z400-D3 KZ400-S2
1977 Z400-D4 KZ400-A1 KZ400-S3
1978 Z400-B1 KZ400-A2 KZ400-C1
1979 Z400-B2 Z400-G1 KZ400-H1 LTD
1980 Z400-B3 Z400-G2 KZ400-H2 LTD
Sort By
Previous Page
1
2
Next Page
Previous Page
1
2
Next Page