Z1000E1/E2 ST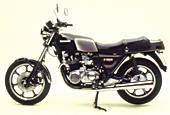 1979/1980 Z1000-E1/E2 ST FRAME NUMBER:KZT00E-000101 >ENGINE NUMBER: KZT00EE-000101 >COLOUR: LUMINOUS DARK RED OR LUMINOUS GREEN
The E-models or ST (SHAFT TRANSMISSION) was Kawasaki's first shaftie. It was basically a MKII with minor modifications including tubeless tyres, a fuel gauge, thicker leading axle forks and a larger fuel tank. Basically maintenance free Kawasaki. It should have sold well, unfortunately it didn't. The United States got an extra colour option, black pearl.
The E2 enjoyed the same differences as the A4 MKII. Remote rear brake reservoir and quartz-halogen headlamp. The United States got another colour option, luminous dark red. Kawasaki produced a full touring kit for this model, courtesy of the American VETTER Company.
Sort By
Previous Page
1
2
3
4
Next Page
Previous Page
1
2
3
4
Next Page