Z1000A3/A4 Z1000 Mk11 and Z1000 B3/B4- LTD + POLICE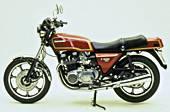 1979/1980 Z1000-A3/A4 MKII FRAME NUMBER: KZT00A-038427 > ENGINE NUMBER: KZT00AE-081566 > COLOUR: LUMINOUS NAVY BLUE OR LUMINOUS DARK RED
The MKII was modified greatly from the previous models in all departments. Power was up to 93 bhp, helped by the return to 28-mm carbs and the use of transistorised ignition. Modified exhaust and angular bodywork give the MKII a completely different look. The traditional round cam end covers was changed to a square design and the motor was once again finished in black. A class act but not everybody's favourite.
Sort By
Previous Page
1
2
3
4
5
Next Page
Previous Page
1
2
3
4
5
Next Page