Z1-R (Z1000D)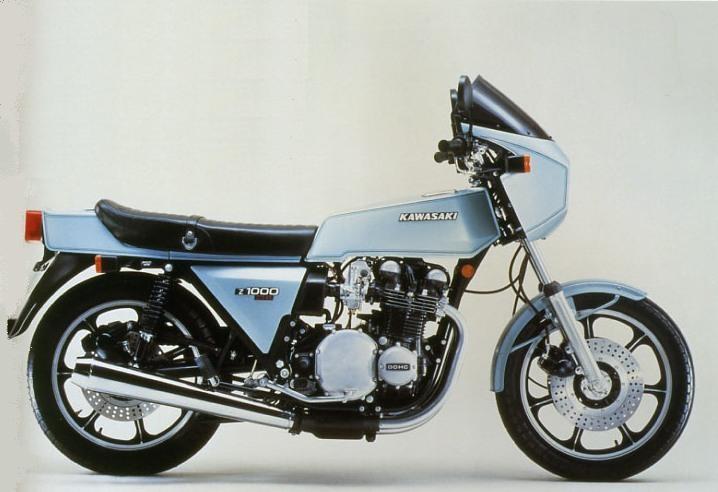 1978 Z1000-D1 Z1R FRAME NUMBER: KZT00D-000001 >ENGINE NUMBER: KZT00DE-000001 >COLOUR: METALLIC STARDUST SILVER.
The Z1R was the first Japanese custom 'cafe racer'. The angular styling was not to everybody's taste. Major changes were the four into one exhaust, a cockpit fairing, solid wheels, drilled discs and self-cancelling indicators. The front wheel was reduced to an eighteen inch one and the engine was once again painted in black. The kick-start pedal was considered redundant and fitted as an emergency measure under the seat. A move back to 28-mm carbs increased the power to 90 bhp making this the most powerful Z yet. Poor sales resulted in Kawasaki producing a larger 20-litre fuel tank and a sintered metal brake kit in an effort to increase sales. UK dealers were still selling this model four years later!
1979 Z1000-D2 Z1R FRAME NUMBER: KZT00D-017501 >
ENGINE NUMBER: KZT00DE-017501 >
COLOUR: EBONY OR LUMINOUS DARK RED
For 1979 the Z1R was fitted with the MK11 engine and all it's improvements. A four into two exhaust system was fitted and there was a move back to a nineteen inch front wheel. It was known as the Z1R-II but was not sold in the UK due to poor sales of the D1. Power was up to 94 bhp.
1980 Z1000-D3 Z1R FRAME NUMBER: KZT00D-017801 >
ENGINE NUMBER: KZTOODE-017616 >
COLOUR: EBONY
The only changes worth while mentioning on this model was the graphics and side panel badges. The UK still went without this bike.
Sort By
Previous Page
1
2
3
4
5
Next Page
Previous Page
1
2
3
4
5
Next Page