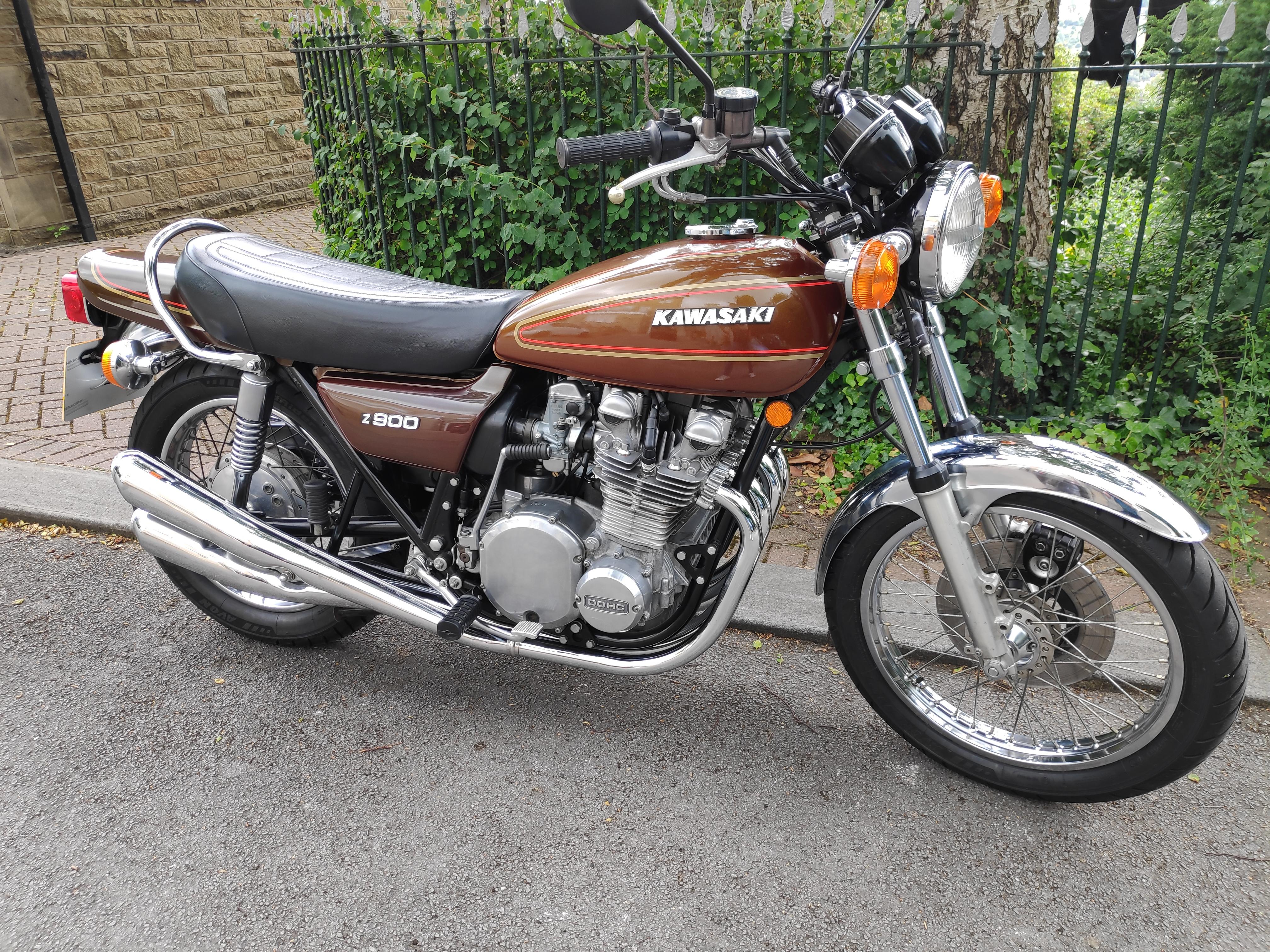 Customer Bike - 1975 Z900 A4
Z-POWER PRODUCT
1976 A4 900
Please note that bikes listed are customer's bikes. If you purchase a bike you will be dealing directly with the individual concerned, not Z-Power.  Z-Power accepts no liability associated with any of the bikes. DO NOT TRY AND BUY VIA THE WEB SITE YOU WILL NOT BE ABLE TO.
My 1975 is z900 is a low mileage (8700 miles) unrestored and all original bike, (with the exception of the service items).
Nothing has been repainted or refinished.
There are no reproduction parts.
Age certificate from the VJMC dates it as 1975. (Build date Dec 1975).
Original paintwork which has a few nicks here and there and is slightly faded but still looks very good.
All the chrome parts are in really good shape, with just a bit of light pitting here and there.
All the painted parts are pretty much rust free and the engine is super clean.
Has the original '76 stamped OEM exhaust which is in really solid condition, owner's manual and toolkit complete with feeler gauge. Full air box with silencer.
I purchased the bike from the American owner in 2016 after it had been in a collection since the very early 80's.
I spent around 120 hours recommissioning the bike, which involved stripping down to the frame and engine and cleaning/overhauling everything as necessary. New tyres, inner tubes, taper head bearings, brake pads, battery and chain & sprockets.
I have 100s of photos of all the work carried out on my Facebook page:
https://www.facebook.com/pg/airevalleyclassics/photos/?tab=album&album_id=42
8241284309976
I registered the bike in the UK as historic bike on a P plate in 2018, so no road tax to pay.
Has been on show at the Stafford Classic Bike show a few times and was very well received.
Only selling to fund other projects. £12,495
Email me at z1oc@ultim8pc.co.uk