Customer Bike - 1975 Z1-B (CANDY SUPER BLUE)
1975 Z1B 900
Please note that bikes listed are customer's bikes. If you purchase a bike you will be dealing directly with the individual concerned, not Z-Power.  Z-Power accepts no liability associated with any of the bikes. DO NOT TRY AND BUY VIA THE WEB SITE YOU WILL NOT BE ABLE TO.
HERE WE HAVE ANOTHER ONE OF OUR FULLY RESTORED Z1`S
THIS ONE IS THE 1975 KAWASAKI Z1-B FINISHED IN CANDY BLUE
BUILT FROM THE GROUND UP, FULL NUT AND BOLT RESTORATION
NO EXPENSE SPARED
WE ARE LOOKING FOR £18,450 FOR IT (ONO)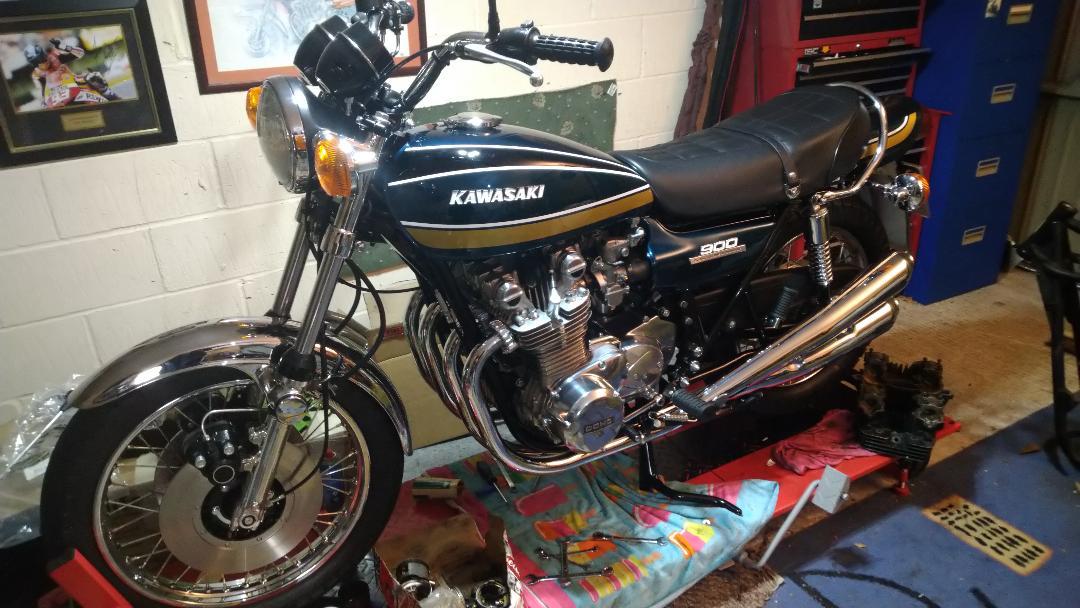 This is a 1975 Z1-B in the best colour, Candy Blue. Originally a USA import but it had been built as a UK spec bike, with the very rare LONG rear fender/mudguard.
It has also been fitted with the optional Double disc conversion and a steering damper and the small frame strengthening kit.
The wheel rims are Takasago and correctly date stamped .  The wheels have been rebuilt with Zinc plated butted spokes with the correct "gold" nipples. New wheel bearings front and rear.
Other original parts include a new genuine front fender. Re-chromed genuine long rear fender, genuine UK tail light bracket, and genuine indicator lenses.
The Paint set is a new DOREMI kit. New Original type Dunlop tyres are also fitted.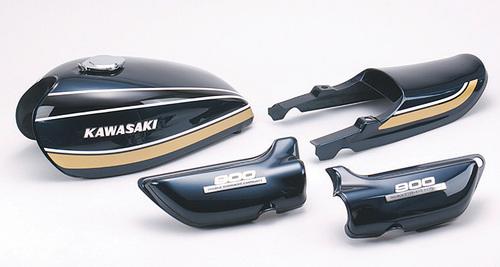 The clocks are the original, restored by Al Marshall. Showing the donor bikes original mileage of 6500 miles.
The exhaust are the new 4-4 now made in Japan by the company who made the originals.
Included is the owner's handbook and full toolkit.
The engine has been cleaned and polished by Steve Smethurst and rebuilt  by Dave Marsden using all new parts, bearing, valves, rubbers, gaskets and seals, cam chain and all tensioners ect….The valve seats have been re-cut and the guides checked and sleeved as required.  The cylinders have been bored to 1st oversize using new pistons and rings. At a total cost of over £2200
All the electrics (wiring/switches/lights/coils/ignition) are new and a combined regulator/rectifier is also fitted. New lock set with 2 all matching keys. The STD air box is fitted.
All black parts have been powder coated, fork lowers cleaned and polished, rear hub cleaned and polished. New taper roller head bearings have been fitted and new swing arm sleeves and bushes.
New fork chrome inner tubes along with new seals.
All fasteners have been replaced with either new or re-zinced. As many as possible are period correct. All new control cables.
All front brakes parts are new. New rear brake shoes and new o`ring chain and std size sprockets.
A New battery is fitted. All the warning decals are fitted.
The carbs have been rebuilt and cleaned/polished by Steve Smethurst at a cost of over £850.
Built to UK spec with UK type switch gear, seat, fenders, metal plug caps,fork chrome reflectors, rear shocks  etc……
The bike is registered in the UK, on a "N" reg and of course does not need a MOT or to be Taxed….
Runs as you would expect  (well, like a 45 year old bike of course !!!)
Running in for 250 miles will be required.
(will need an oil/filter change at that point. Uses a mineral 10/40w oil)
Will come with a workshop manual, new oil filter and 4 spare NGK spark plugs.
It could be changed back into the USA spec if need be for no extra charge.
Over £9000 of new parts used, £3500 spent on specialist restoration work, £4000 for the donor bike, so £18,000 is not unreasonable once you include any of our labour charges.
We have lots of photographs of the build, WE CAN E-MAIL YOU THEM IF NEED BE.
CONTACT:  TREVOR  ON 07736894268 OR DAVE ON 07738633816
OR E-MAIL     SUPERDAVEMARSDEN@YAHOO.CO.UK