The Z-Power story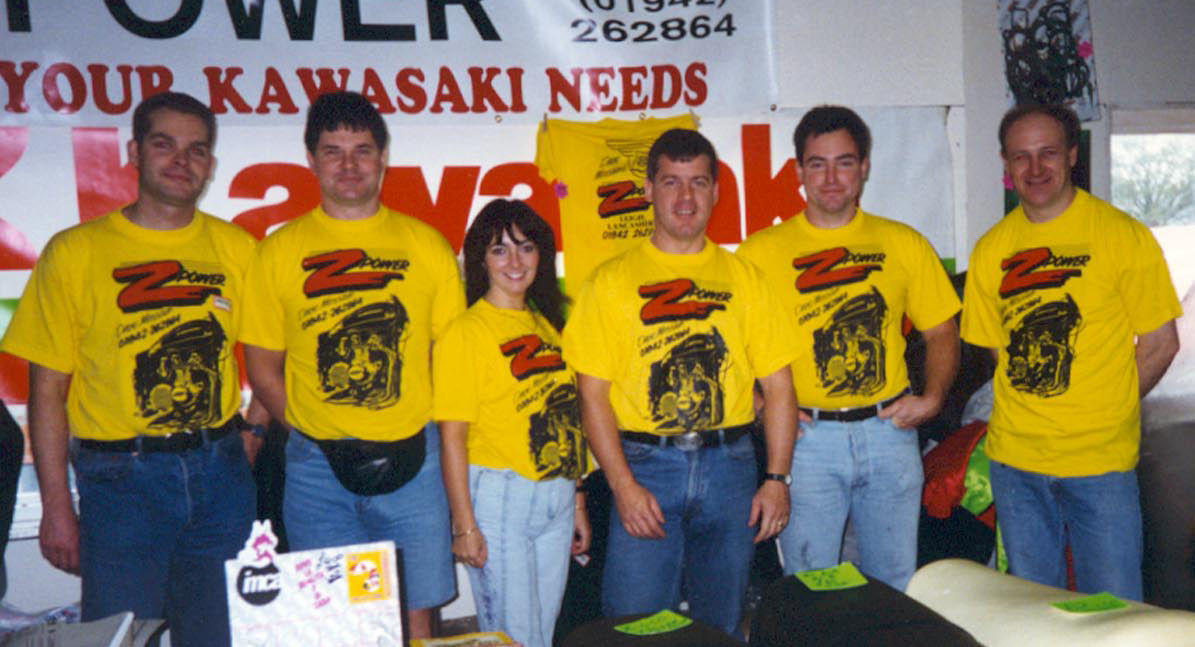 The Z-Power story starts way back in 1974. A young 16 year old spotty thin lad, Dave Marsden had just left school and fancied himself as a bit of a motorcyclist. Being 6 foot 3 inches tall meant that a sixteener special moped was out of the question, no, Dave was going to wait until he was 17 and buy one of those Kawasaki 250 triples, the S1-C.
Well 1975 came and on his 17th birthday, Dave found himself at Queens park motors in Salford slapping his deposit down on not a S1-C but a gleaming new Honda CB250-G5. well it had 6 gears and an electric start, the S1 did`nt!!
Dave could have easily stayed with Honda for ever but 18 months later, once his bike test had been passed he found himself back at Queens park, cash burning a hole in his pocket, desperate to buy a new Honda CB500T, the orange one with the brown seat.
Now, a very strange thing happened that day, fate intervened in a very strange way !
On pulling up at Queens park, Dave stopped his G5, put the side stand down but failed to notice the grid underneath it. Consequently the bike got stuck there for a good 5 minutes while he and his brother struggled to free it from it`s temporary prison. Just when all seemed ok, a blue Kawasaki Z1-B pulled up, parked on the corner of the road and just stood there in all its glory!
Dave also stood there just staring at this piece of kinetic art for what seemed like hours. The money in his hand returned to his pocket and Dave rode to the Kawasaki dealer in Manchester, Knott mill Kawasaki on Deansgate and shoved his deposit into the eager hands of Arthur Arnold, the "boss".
By the time he had saved up the rest of the money, the 900 had been replaced by the Z1000, so Dave rode away on the 1st April 1977 on a new red Z1000-A1. SNC 631R.
The Z1000 proved to be a little un-reliable; it suffered from a failure of the top cam chain idler rubbers (92075-289) which eventually broke up allowing the cam chain to slip on the crankshaft sprocket bending a few valves.
Dave spent a few days at Knott mill waiting for various repairs to be carried out to the point where Arthur said to him, "Dave, you are here so often, I will have to find a job for you". And he did !!!
It just so happened that the stores manager was leaving that week so Dave started on the 1st Saturday in September 1978 and the rest is as they say, history!!!!
So, if that grid had not detained him, He may have missed that Z1B and bought the 500T and if that 30 pence idler rubber had been ok, then He may have never started at Knott mill Kawasaki.
Life can be very strange !!!!!!!!!
DAVE MARSDEN formed Z-POWER in 1986 after working for seven years as Stores Manager at Knott Mill Kawasaki in Manchester and then for two years as General Manager at Huddersfield Kawasaki before deciding to go it alone.
During this time Dave restored many different Kawasaki models for himself, customers and dealers. Some of his restorations even found there way back to Japan - several of which are on display in Kawasaki's own museum!
Dave has lost count of the number of trophies he has won!. Starting with just a couple of used parts, Dave used his extensive knowledge of the Kawasaki parts system to build up a faithful customer database.
From the spare bedroom in his home, Dave and wife Michele nurtured
Z-POWER, which quickly grew into a worldwide supplier of Kawasaki parts.
Originally most of the business was with the triples and early twins but as these parts became increasingly harder to find, Dave found himself concentrating on his true love, the Z1. The triples and twins, however, have not been forgotten.
In 1991 Z-POWER moved into new premises and took on more staff to help with the growing amount of orders for classic Kawasaki parts.
The continuing problem of parts becoming no longer available prompted Dave to start re-producing certain items such as seat covers, decals, panels and various other small but important parts. Z-POWER was joined in 1997 by another ex-Huddersfield Kawasaki man, Phil Alford. Phil brought with him, 15 years of modern model information and thus moved Z-POWER up to speed in supplying parts for all Kawasaki models, whatever their age.
Later that year Z-POWER became the first official Kawasaki parts only supplier. The range of products grew and Z-Power's market place became bigger and more varied. All the major UK magazines, for various articles and reports, have used
Z-Power's bikes and Dave himself has appeared many times on TV preaching the gospel of the Z1.
Dave has written many of the articles himself and his seemingly endless knowledge is constantly being requested by owners, enthusiasts, clubs and even by Kawasaki UK. He has also written a book - 'Original Kawasaki Z1, Z900 & KZ900' - Published by MBI this is THE essential restorer's guide.
Z-POWER operates a fast efficient mail order system to both retail and trade customers. Overseas customers can also expect a fast turn around on all orders. You can meet the Z-POWER team at most shows and club rallies, where you will find them to be both friendly and helpful ensuring that most Z-Power customers become friends.
If it's Kawasaki parts you need, from 1966 to the present day, from a AR50 to a ZZR1400, then ring the experts, ON 01942 262864